Support for a Healthy Heart
‍ Supports Cardiovascular and Blood Health
‍ Supports a Healthy Heart and Circulatory System
‍ Supports Healthy Blood Pressure Within the Normal Range
Order Now
‍
With Olive Leaf Extract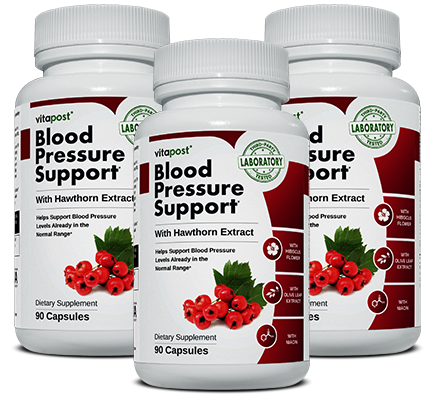 What is Blood Pressure Support?
VitaPost Blood Pressure Support is a bespoke combination of botanicals and vitamins formulated to support blood pressure levels already within the normal range. It is always important to monitor blood pressure levels, and if you have any doubt you should consult with a healthcare professional. VitaPost Blood Pressure Support can nutritionally support heart health, cardiovascular health, and a healthy lifestyle.
With ingredients seen in:

Benefits of VitaPost Blood Pressure Support
‍
Supports Cardiovascular Health
Your heart works hard – tirelessly, non-stop. The ingredients in Blood Pressure Support work to support this never-ending undertaking, supporting the cardiovascular system as a whole. Blood Pressure Support includes essential vitamins C, B6, B12, niacin and folate.
‍
Helps Support a Healthy Heart
In order to maintain cardiovascular health it is recommended that some simple lifestyle practices be implemented, such as regularly exercising and eating a well-balanced diet. In addition to these, supplements may also be taken to provide nutritional support to the circulatory system and cardiovascular health.
‍
Supports Healthy Blood Pressure Levels Within the Normal Range
With hawthorn extract, olive leaf and hibiscus flower, Blood Pressure Support combines herbs and vitamins that have been used traditionally for generations. Love your heart; and nourish it with age-old nutritional knowledge.
Order Now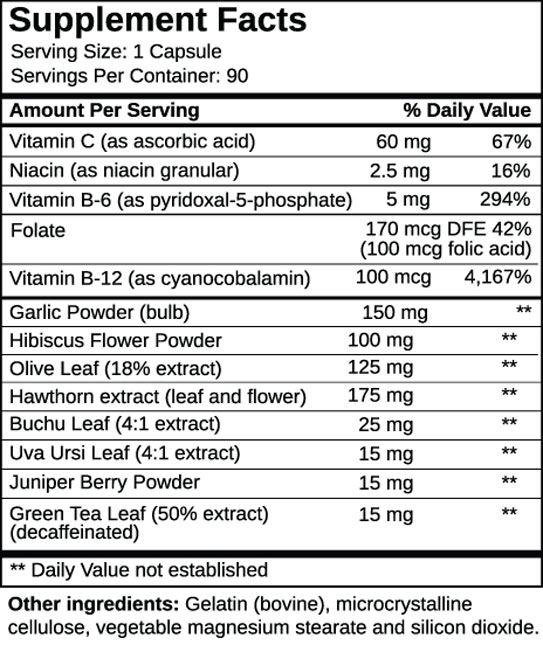 Blood Pressure Support Ingredients
VitaPost Blood Pressure Support is a specially-formulated blend of ingredients.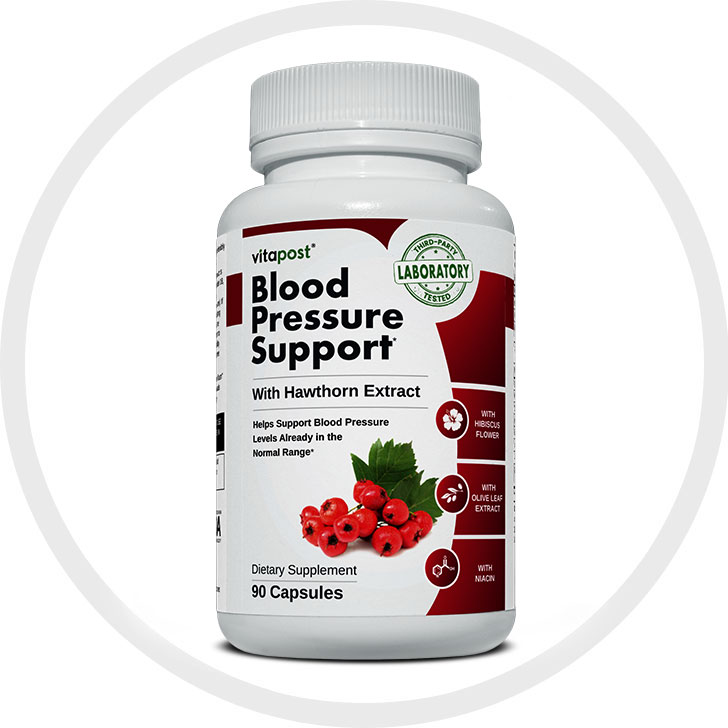 Hibiscus Flower
‍
‍
Hibiscus flower has been shown to support healthy blood pressure levels within the normal range. Hibiscus flower tea is commonly used in this way, as well as for the promotion of liver health and weight loss. Hibiscus flower is also rich in antioxidants and polyphenols, both bringing general health benefits by fighting free radicals in your body.18-20
Niacin
‍
‍
Niacin, also known as vitamin B3 is an important antioxidant and water-soluble nutrient. Being one of the eight B-vitamins, Niacin is important at the cell level for general good health.5,6
Garlic
‍
‍
Garlic is used for many heart-related health benefits. These benefits include the support of cardiovascular health by providing nourishment for healthy aging arteries; support for normal-range systolic and diastolic blood pressure; and support for normal-range cholesterol levels.15-17
Vitamin C
‍
‍
A well-known and powerful antioxidant, Vitamin C is essential for good health. Unlike most other animals, people need a regular intake of Vitamin C. It is commonly associated with the immune system, and its antioxidant properties may have farther-reaching effects.7-9
Olive Leaf
‍
‍
The extract of olive leaves has long been used in traditional medicine for a variety of health benefits, including in support of a healthy inflammatory response. Studies have shown olive leaf extract can provide support for healthy blood pressure and cholesterol levels within their normal ranges.12-14
Vitamin B6 & B12
‍
‍
B6 is necessary for more than 100 metabolic enzyme reactions and is involved in immune function.10,11 B12 supports nerve and blood cells, and helps make DNA.11
Hawthorn Extract
‍
‍
Hawthorn has traditionally been used in Chinese and Indigenous American cultures as a powerful antioxidant and supplement relating to the heart. Hawthorn can help support healthy blood flow and the normal transmission of nerve signals. A component in Hawthorn called proanthocyanidin has been implicated in supporting the relaxation of blood vessels far from the heart.1-4
Professional opinion
The ingredients inside Blood Pressure Support have been presented in numerous mainstream media and from research clinics and organisations.

"Researchers say folic acid is thought to reduce the risk of high blood pressure by helping blood vessels relax and improve blood flow. Additionally, diets rich in folic acid can also improve blood pressure"
Published by Web MD, January 2005

"Garlic in supplements have shown promise in the treatment of uncontrolled hypertension, lowering blood pressure (BP) by about 10 mmHg systolic and 8 mmHg diastolic, similar to standard BP medication"
Published by NCBI, December 2014

"Researchers found that green tea consumption is associated with a lower average systolic blood pressure. In addition, green tea consumption correlated to lower total and LDL cholesterol levels"
Published by World Health .Net, March 2014
Blood Pressure Testimonials
We have happy VitaPost Blood Pressure Support customers here in the USA and all around the world. Here's what they have to say.
Already a customer? Write your review now ‍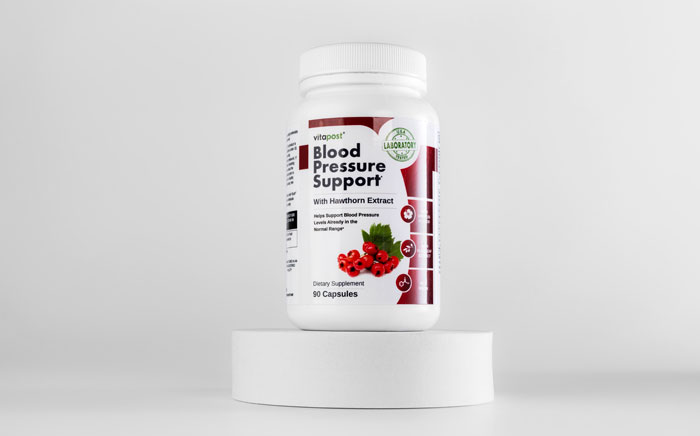 ‍
not cheap but immediately felt the difference, happy with results
‍ Yes, I would recommend this product
‍
Work better than expected
‍ Yes, I would recommend this product
‍
I swear by vitapost blood pressure its a little pricey and deosn't sit right unless I have it after food, but boy does it make a difference in my legs! I would recommend just be sure to take them after eating
‍ Yes, I would recommend this product
Click here to read all reviews.
FAQs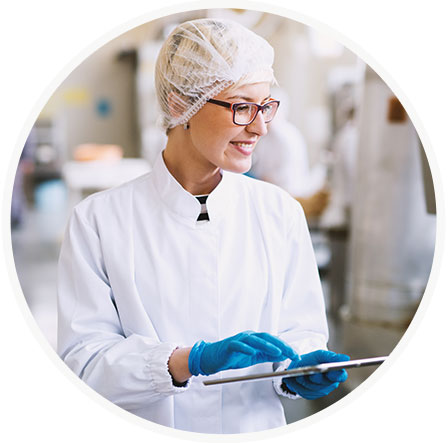 ‍Taking Blood Pressure Support
Do I need a prescription for Blood Pressure Support?
Blood Pressure Support is available for purchase without a prescription.
How do I use Blood Pressure Support?
Take one (1) capsule 1 to 3 times a day with food or as directed by your healthcare professional.
Do not exceed recommended dose. This product is not intended for pregnant or nursing mothers, children under 18, or individuals with a known medical condition including cardiovascular disorders or hypotension. If you are currently taking any prescription medication including those for high blood pressure and have questions about the advisability of taking this product, consult a physician prior to taking this product.
I don't enjoy swallowing capsules. Do I have any other options?
While the Blood Pressure Support capsule can be taken apart and absorbed in your favorite drink or food, we would not recommend this due to the taste. As this capsule contains compact powder, we would also not recommend splitting the capsule in half and attempting to swallow the halves.
Will I experience Niacin Skin Flush?
Most people should not experience "Niacin skin flush" when taking this supplement. However, a few sensitive individuals may experience some flushing. Do not take on an empty stomach.
‍Shipping, Sizes and Quantity
What are my delivery options?
We have global distribution to 20 countries worldwide. This list of countries is available in the first step of checkout.
Orders are processed immediately and shipping depends on which option you choose:
| Description | Price |
| --- | --- |
| USPS - Standard (3-5 business days) | $4.95 |
| USPS - Second Day (2-3 business days) | $9.95 |
| UPS/DHL/USPS – Tracking International (12-15 business days) | $9.95 |
How many capsules are in 1 bottle of Blood Pressure Support?
Blood Pressure Support contains 90 capsules in every bottle. This is equivalent to a 1-month supply at directed use.
How big are the capsules?
The capsules are a standard 0 size, which is less than an inch long (22mm). Most people consider this size easy to swallow.
Can I return my unopened bottles of Blood Pressure Support?
Yes, we stand behind this supplement 100%, so we're more than happy for you to return your unopened bottles of Blood Pressure Support within 5 months of purchase.
‍Ingredients and Restricted Diets
Is Blood Pressure Support free of common allergens?
While the formula does not contain common allergens, this product is manufactured and packaged in a facility which may also process milk, soy, wheat, egg, peanuts, tree nuts, fish and crustacean shellfish.
For uncommon allergens, please check the ingredients list.
Is Blood Pressure Support a vegetarian product?
Blood Pressure Support is not a vegetarian product due to the presence of gelatin (bovine).
‍Certification and Manufacturing
Are these certified by the FDA?
The FDA does not certify dietary supplement products, such as Blood Pressure Support. However, Blood Pressure Support is manufactured in an FDA registered facility that follows GMP guidelines.
Where is this manufactured?
Blood Pressure Support is manufactured in the US.
Support Your Cardiovascular Health
Take care of your heart and support healthy blood pressure levels within the normal range. Try VitaPost Blood Pressure Support Today.
Limited time offer,
buy 3 and get 1 free! ‍